Our mission
Our core mission at Whirli is to support busy parents. For me, this has always meant providing a high level of service that is convenient, flexible, affordable, and also driven by ethical values. These principles run through Whirli today, from how our sharing economy works, to our selection of toys, and even to how we provide customer service and treat all our staff.
More recently, we stood firmly by these values and principles, and served the thousands of families in our community throughout the COVID-19 lockdown from March to July. We heavily subsidised our home collection service at the fraction of cost price, so families could continue to use our service without having to leave their homes. Our staff also navigated the crisis admirably and continued to put our community of parents first, helping all our subscribers through an extremely challenging and difficult time.
It goes without saying that COVID-19 has ravaged many businesses. While we count ourselves as relatively fortunate, we were not unscathed. Whirli is largely a founder-owned small independent business (not backed by corporates or venture capital). As with all small independent businesses across the country, we have had to adapt to huge changes as well as absorb unexpected costs. Whilst this has been possible in the short term, we now need to look ahead and strengthen our community and business so we can thrive in the long term.
Looking ahead
We're making small changes to our subscription plans and delivery fees to address the long term impact of COVID-19 and ensure our business can be sustainable. These changes have a small impact on individual subscribers. There are no immediate charges levied or changes to the prices for our subscription plans, but standard delivery and return fees are increasing by 50p each (£1 monthly for Delivery Booster).
These small changes will help us materially improve the experience for all subscribers in our community. It will allow us to continue investing and improving our customer experience – better toy availability, a broader range of products, further improvements to the web experience, more varied delivery options, and many more things to come. All while staying true to our mission for all our subscribers and all our staff.
Value for money
We scrutinised our changes and remain confident that Whirli still represents the best value for money, by far, when it comes to children's toys.
Our data shows that :
Over 6 months, the average subscriber plays with 400-600 Tokens of toys (worth £400-600 RRP), representing 3-5X more than they have paid to Whirli (including all delivery and return fees).
Despite the changes announced today, all our subscribers will still continue to enjoy this unbeatable value where Whirli is always better value for money than shopping for toys, no matter how frequently you swap with us.
Here are the changes to our subscription plans and delivery fees in full detail:
Token allowance changes
There have been no changes to the price that subscribers pay for the plan. However, the maximum Token allowance for each plan has reduced slightly to the following:

Each plan continues to deliver tremendous value for money, allowing subscribers to play with toys equivalent to at least 8 times the monthly plan cost at any time. There is no need for subscribers to return any toys immediately, these changes only take effect in your next swap. There are also no changes to Swifter Swaps, so customers can continue to enjoy receiving their latest orders before returning toys and be in a period of 'overdraft' with toys exceeding their plan's token allowance.
We are also now able to craft bespoke plans beyond 240 Tokens. If you need more than 240 Tokens, please do get in touch and we will be able to cater for you.
'Keep a toy' changes
In buying a toy to keep, we consider the amount of time you've borrowed the toy to ensure you never pay more than retail price.
A toy never swapped
In line with the changes to our subscription plans, you can now keep a toy forever, at no extra cost, if you have had the toy for 8 months (vs 9 months previously).
Buy a toy
When buying a toy from your toy box, we will now calculate the residual value based on 243 days (8 months) rather than 274 days (9 months).
This therefore makes it cheaper to buy a toy to keep, and is a pricing improvement for all subscribers.
Pay monthly 'Intro period'
For new customers only
For new pay monthly subscribers only, we are increasing our introductory period from 2 months to 3 months in line with many other subscription companies. This means that you will only unlock your full Token allowance after 3 months of being with Whirli.

In token terms here's how it plays out: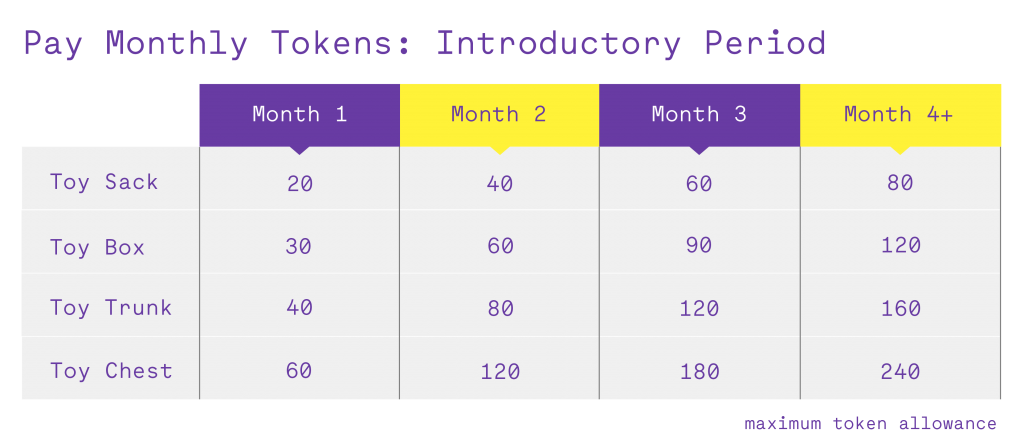 No changes for existing customers in their introductory period
This introductory period change only affects new pay monthly subscribers. All existing subscribers who are still in their 2 month introductory period are unaffected and will get all their plan's tokens available upon completing their 2 month introductory period.
Delivery fee changes
We've made some changes in line with price increases received from our delivery partners.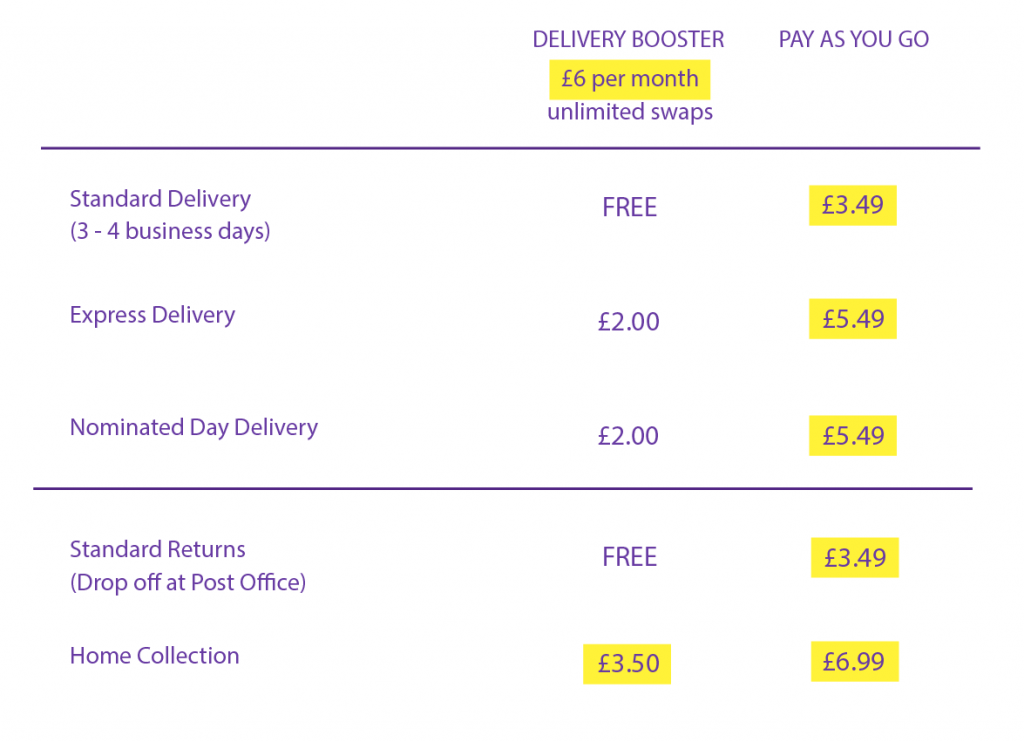 All changes are highlighted in yellow. Our Standard Delivery and Standard Return fees have increased by 50p each, and Home Collection has increased by £1.50 (this continues to be a subsidised service priced well below market rate).
Delivery Booster has correspondingly increased by £1 per month. There have been no immediate charges, the new pricing for Delivery Booster only takes place on the next renewal of your subscription plan.
Changes to our Subscription and Gifting Terms and Conditions
We've made changes to the formal terms and conditions for subscriptions and gifting. These were to correspond to the changes listed above, as well and capturing new features that we've built since we launched Whirli in 2018.
Have any questions?
As ever, please contact us if you have any questions about any of these changes or if you need any help getting the best value possible out of your Whirli subscription. We're always here to help.
Thank you for all the positive encouragements and continued support.
Best wishes,
Nigel Phan
Founder and Managing Director